July 29, 2012
Every 10 years Sight & Sound Magazine publishes the most reputable compilation of the greatest films of all time. The British Film Institute collects ballots from many of the most respected film scholars, critics and directors throughout the world, who are asked to create the impossible—a list of their top ten films of all time.
Most, who are asked, will try to create a list composed of ten films by ten different directors. I have chosen to do the same—focusing primarily on the directors who have had the greatest effect over my ideas on film and life.  
The previous list was published in 2002; On August 1st, BFI announced its launch dates for the list which will be released gradually between August 3rd and August 22nd.
Since I am not actually voting in the poll I have created a list of 24 films/directors—11 "Honorables" and 13 "Top 10″ films that, by some combination, would make up my "Top 10″.
Top 10: Wings of Desire (Wim Wenders, 1987)


"When the child was a child, it was the time of these questions. Why am I me, and why not you?  Why am I here and why not there?"
From my early childhood, my memories are not a blur but a plethora of colors, impressions, moments; I wish I could recollect the day the Berlin wall came down.  The 1990s brought many an image that I can remember, mostly from newspapers but also from shades of broadcast news—sounds from NPR and radio talk shows, along with the occasional glimpse of the news on television.  I found myself intrigued, recurrently, by images of a graffiti laden wall coming down—of people celebrating—so I was told, this was the moment that Soviet communism ended—a moment of great freedom.  Throughout my childhood, I had a strange longing to have been there, in Berlin, at that moment.  Something mysterious, something I don't seem to know but feel as if I understand, some inexplicable desire to know Berlin has forever lingered in my mind —to chart its evolution to 1989—to see this great divide between East and West—the war torn versus the modern.
I remember nothing of the day the wall came down—I was barely three years old.  Yet, I feel as if I was supposed to have been there.  Why?  These feelings existed long before I saw Wings of Desire—watching a film about Berlin in 1987 was a dream—impressions of this place, of its people, became tangible.  Thank you Wim Wenders.
"When the child was a child, it walked with its arms swinging. lt wanted the stream to be a river, the river a torrent…and this puddle to be the sea.  When the child was a child, it didn't know it was a child.  Everything was full of life, and all life was one." 
Wings of Desire is the most poetic of all films.  It doesn't claim to know.  It spurns pretension.  It lives in humility.  It is filled with compassion.
In 1985, after living in the United States for the better part of the previous 6 or 7 years, Wenders moved back to Germany.  Wenders found himself stimulated, after a visit to Berlin—immediately filled with "desire" to make a film about Berlin, saying:
"I'm no Berliner.  Who is nowadays?
But for over twenty years now, visits to this city have given me my only genuine experiences of Germany, because the (hi)story that elsewhere in the country is suppressed or denied is physically and emotionally present here.
The thing I wished for and saw flashing was a film in and about Berlin.
Of course I didn't want just to make a film about the place, Berlin. What I wanted to make was a film about people—people here in Berlin—that considered the one perennial question: how to live?" –an excerpt from Wenders' conceptual genesis of Wings of Desire
Of course, from there, Wenders created the idea of angels in Berlin who can "see and hear everything—even the most secret thoughts."  In 1987, it's hard to imagine a better setting for a film about two angels who are capable of going anywhere—through walls and windows—seeing anything.  When you think about it, a film centered on the people and places of West and East Berlin, just months before the wall came down and communism ended, is a miracle of sorts.  In Wenders' words, "Berlin" represented "the world," adding:
"I know of no place with a stronger claim (to the world).  Berlin is "a historical site of truth."  No other city is such a meaningful image, such a PLACE OF SURVIVAL, so exemplary of our century.  Berlin is divided like our world, like our time, like men and women, young and old, rich and poor, like all our experience.  A lot of people say Berlin is "crummy."  I say: there is more reality in Berlin than any other city.  It's more a SITE than a CITY.  "To live in the city of undivided truth, to walk around with the invisible ghosts of the future and the past . . ."That's my desire, on the way to becoming a film."
The idea of a city in motion—all of its multiplicities—all of its deepest secrets revealed—with this, Wenders achieved a conceptual perfection in the realm of modern city life.  The Black and White cinematography like that of a dream is accompanied by beings—voices—crying out to be heard, noticed; cared for.  History is in motion in Wings of Desire.
And, Wings really is a much different film than Wenders' other pieces.  "The road" was Wenders' playground in his preceding work—echoing a desire to escape the city, rather than ponder it.  I could just as easily write on some of Wenders' earlier efforts—The American Friend is one of the most underrated films of all time—Paris, Texas is another masterpiece—both, utilizing the screen as a canvas for compositions and color; often reflecting a quiet, abandoned sense of space.  This canvas is wide—the landscapes feel larger than they do in most other directors' work.  You could make a pretty strong argument that Wings of Desire, a film about a city, which represents the world, was probably made by an artist well suited to attempt such a project.
"When the child was a child, it had no opinion about anything.  lt had no habits.  lt often sat cross-legged, took off running…had a cowlick in its hair, and didn't pull a face…when photographed."
I read Wings of Desire a lot like, I do, Blade Runner.  Do these films suggest that an angel or a 'replicant' deserves to be human—that they're better off as humans?  No.  But, in their desire to have longer life or to have the ability to see colors, touch, taste and smell, they suggest that we as humans have a tendency to neglect many of the amazing gifts that God has given us.
"lt couldn't imagine nothingness, and today shudders at the idea.  When the child was a child, it played with enthusiasm…and now it can only muster it when it concerns its work."
Wings of Desire challenges me, perhaps, more profoundly than any film I have seen; The Bible may be the only poetry, I find, as deep in its conviction—interrogating the glutton in me—learning a balance between desire and the joy of simplicity.  A poet challenges us to be thoughtful in life—to investigate all of life's intricacies—to fear nothing, and no one, but God.
–SE, October 27, 2012
Top 10: Aguirre: the Wrath of God (Werner Herzog, 1972)


Werner Herzog probably did have some innate right to that 35mm camera he stole from the Munich Film School.  In fact, as a part of the film world, I rejoice daily over that theft.
If there's one thing I've learned from Werner Herzog, it is courage—something which many young filmmakers seem to be lacking, in America, right now.  Permits, rules, limitations never stifled Herzog.
"Every film is like a child—a stubborn child, with its own way of seeing things and doing things—and like a parent you must be willing to risk everything to protect it." ­-Herzog
In America, have we forgotten the risks you have to be willing to take, the things you have to mortgage, to really craft something, with film?  Herzog was never slow to point to the excuses that people would make to him about not realizing their dreams or vision with filmmaking—I've heard of him saying something along the lines of '…if you need the money to buy a camera or make a film…go work as a bouncer at a Night Club…and, maybe by the time you have the money, you'll have enough real life experience as well…'
So much pretext these days from young filmmakers—to me, digital filmmaking isn't good enough—it's a copout, a lie, for anyone that is interested in making feature films.  It's a shortcut; it's like cheating on a test and ending up with a D+.  No 'interesting' locations with which to shoot something—nowhere to compose interesting images?  Tell that to Herzog.
Tell that to the man who showed up Mummies of Guanajuato museum in Mexico and felt that filming the mummies in their cases (the opening scene for Nosferatu the Vampyre) wasn't good enough—of course, they had to be taken out by hand, put up against a wall and arranged from youngest to oldest.  For the same film, Herzog released 11,000 rats in the middle of a large town square in The Netherlands.  Now, why would we ever say that a shot isn't possible?
Tell that to the man who pretended to be a veterinarian, in Peru, after he realized that the monkeys he thought he had acquired for a few shots in Aguirre: the Wrath of God had been sold to someone else.  Yeah, he drove to the airport, as they were about to be shipped off to America and said that he was a "vet" and that the monkeys needed "vaccinations," before loading them into his jeep and driving off.
Tell that to the man who ate his shoe. 
Tell that to the man who hypnotized chickens and other animals in Kaspar Hauser and then took it a step further on Heart of Glass, when, outside of the lead character, he successfully hypnotized every actor in every scene in the film.
Tell that to the man that literally moved a steamship over a mountain in Fitzcarraldo.  Les Blank's Burden of Dreams tells us how Herzog lost actors and crew to sickness, desertion and even death, in his efforts to create one of the greatest spectacles in all of cinema. 
Sieze the opportunity, do not hesitate.  If Saddam sets fire to the oil fields in Kuwait, do you sit around, or, do you pull out your 16mm camera and get to work?  You wouldn't sit around and pass on the opportunity to create a science fiction film from real footage and real destruction of the natural world, would you?  Without courage, as such, we wouldn't have Lessons of Darkness.
"If I had to climb into Hell and wrestle the devil himself for one of my films, I would do it." -Herzog
Doing the things necessary to carry out a creative vision?
Throughout my Sight & Sound entries I've continually talked about the importance of atmosphere, in filmmaking.  Herzog's environment is unique, against some of the other films I've talked about to this point, because he was able to execute creative visions rooted in the fairly distant historical past.
Aguirre: the Wrath of God feels like it is set in a jungle in 1560 because of its minimalism and space.  With modern films, like, for example Kingdom of Heaven or Braveheart the films don't read like historical documentation because they're made conventionally—they contain all of the plot elements, devices and sequences that you would expect to see in a historical epic. 
Aguirre begins with a long, foggy, shot of a heap of Spanish conquistadors, horses and captured Indian slaves drudging down a mountain—there's no big battle scene, no cheap thrills contending for our attention.  Eventually this group finds it way in to a jungle, below, and we are immediately given a sense of time and place.  Herzog loved shooting in the third world, particularly in the Peruvian rainforest, where Aguirre and Fitzcarraldo were both filmed.  His use of native Peruvians gave these films a further sense of realism, and an eerie counterpoint to this world was shaped by Herzog's use of early synthesized music, from the German band Popol Vuh—much like Stanley Kubrick's alliance with Wendy Carlos.
Aguirre's influence has stretched decades beyond its release—without its influence, I'm not sure, Coppola's Apocalypse Now and maybe even Malick's The New World would look the same.  The word "mystical" gets thrown around a lot in film review; besides Apocalypse, if there's ever a film that fits the description, it's Aguirre.  The mystical gives way to madness, breeding death.
Aguirre: the Wrath of God paired Herzog with actor Klaus Kinski, for the first time. Watching Kinski play Lope de Aguirre is the artistic equivalent to listening to Prince's vocal performance on "The Beautiful Ones"—it can't be duplicated, ever.  In screen acting, it is in the same realm of perfection as Maria Falconetti in The Passion of Joan of Arc or Jack Nicholson in The Shining.
If there's an even better word than "mystical" to describe Aguirre, its 'manic'; Kinski always seems as if he is on the edge of violently exploding, and, according to various accounts his intensity or insanity was real.  Herzog constantly had to keep Kinski under "control," to limit his psychosis, at the expense of avoiding histrionics.  Many have said that both Herzog and Kinski wanted to "kill" each other on the set of Aguirre, with one rumor going so far as to say that Herzog had actually forced Kinski to act at gunpoint.
When violence occurs it isn't idealized; we don't hear the music turn dramatic when a head is cut off unexpectedly.  We don't follow the flight of arrows approaching a target; characters are suddenly found dead, or wounded by arrows, much as they would be in real life.
Like Apocalypse, Aguirre and his counterparts float down the river toward destruction; despite the tenuous basis of the mission itself, Aguirre is overcome by greed and any shred of wisdom is conquered by his wrath.  His desire is driven only by fear—fear of failure.
The rest of Herzog's masterpieces follow along the same line as Aguirre; characters are continually driven to madness by the chaos of the world which surrounds them.
 "The poet must not avert his eyes; you have to take a bold look at what is your environment—what is around you—even the ugly things—even the decadent things."     -Herzog
I'd be remised if I didn't at least talk briefly about Stroszek (which could, just as easily as Aguirre, be my Sight & Sound vote from Herzog's work) and The Enigma of Kaspar Hauser.  Bruno Schleinstein was another great find of Herzog's; he discovered him while working on a documentary about street musicians and, later, capitalized on his virtually expressionless and ostensibly dimwitted persona.  Together with Bruno "S.", and a group of mostly non-actors, Herzog was able to make his vision of the real story of Kaspar Hauser (about a boy, who mysteriously appeared in a square in Nuremberg, claiming to have spent the first 16 years of his life locked inside a dungeon) a reality on film. 
"If you switch on television it's just ridiculous and destructive—and talk shows will kill us—they kill our language–so we have to declare holy war against what we see every single day on television, on commercials.  I think there should be real war against commercials—real war against talk shows and all these things." -Herzog
Stroszek is more than just 'the film that Ian Curtis was watching when he killed himself'—it is Herzog's vision of America—its grandest failures at work, firsthand.  People emigrate from their home countries to America, with sumptuous delirium—the American dream on their minds.  In Herzog's world, slowly, but surely, most anyone who leaves their home country for America will find themselves unfulfilled and shamed by a rigid structure of formalities and expectations—crammed with no less chaos than their prior home.
Courage takes patience, but even more so, it takes the ability to follow through—to carry things out to their fruition.  Many will tell you that Herzog is a humble man, who reccurently deflects any assertions of his greatness, but, this is also a man who doesn't believe in being passive.  His actions reflect boldness—he is not a man who simply thinks that things will 'work out'.  He is Werner Herzog.
–SE, October 20, 2012
Top 10: Three Colours: Blue, White, Red (1993, 1994, 1994)


Krzysztof Kieślowski began as any aspiring filmmaker should, by investigating certain facets of life which surrounded him and fascinated him, as a documentarian.  His early documentary shorts had an unwavering focus on realism within Poland, during the 1970s; often exploring methods of transportation (Tramway, Pedestrian Subway and Railway Station, which reflected a Nixon era, HAL-9000-esque mode of technological prying), industry (Factory) and the agonizing Hospital, which watches inside a real third world hospital, as chaos reigns, while doctors precede to operate on a real patient, live on camera.
Camera Buff is Kieślowski's first masterpiece, a feature, which recapitulated many of Kieślowski's own struggles as a documentarian during the 70s.  The lead character is a man who invests in an 8mm film camera, in order to document the early stages of his newborn daughter's life.  With time he becomes more intrigued by filming the qualities of everyday life, in his hometown in Poland.  He is asked, by friends and co-workers, at the factory plant where he works, to film an upcoming conference.  He is faithful in documenting all facets of the gathering, so much so that his boss asks him to remove certain shots in order to construct a more idealized picture of the festivities.  Eventually, his authenticity to stories and realism draws the chagrin of his communist boss and also causes one of his close friends to lose his job at the plant.  Additionally, his wife walks out on him with their daughter.
The final scene of Camera Buff is one of Kieślowski's greatest achievements; our loyal documentarian turns his new 16mm (the same medium which Kieślowski used for many of his documentaries) camera on himself, on his own face—documenting a visage ridden with guilt, possibly feeling remorse for the turbulence which he seems to have created for himself through his commitment to recording the unseen and often unacknowledged truths which surround him.
Kieślowski found himself questioning his very work as a documentarian, later on, pondering whether he actually had the right to film certain things:
"I managed to photograph some real tears several times…I am frightened of those real tears.  In fact, I don't know whether I've got the right to photograph them.  At such times I feel like somebody who's found himself in a realm that is, in fact, out of bounds.  That's the main reason why I escaped documentaries."
Kieślowski's features after Camera Buff continued to focus on political issues within the communist state of Poland—hoping, eventually, for solidarity among a people overcome by sadness.  No End is really the first piece to Kieślowski's final decade as a filmmaker—one of the most forlorn films I've ever seen, Kieślowski's ideas were evolving beyond Poland into a more universal exploration of alienation.  I see No End as a necessary precursor to Kieślowski's, later, international productions—like Terrence Malick's body of work, Kieślowski's earlier films investigate human nature, especially when it fails, while the later films (e.g. Three Colors or The Tree of Life) pose ideas for a happier, and more fulfilled, state of being within the confines of a challenging and complicated world.
Dekalog continues that foundation, through 10 one-hour long films; each segment considers a different one of the Ten Commandments, exhibited through the moral and ethical concerns of a multitude of characters living in the same housing complex in modern day Warsaw.  No End and Dekalog reflect a middle point in Kieślowski's work, where a larger, spiritual, vision is connected with and reflected through the realities of a modern Poland.  I must say, I really wish there was a better scan of The Dekalog available—praying that Criterion will one day, garner the rights to produce an improved scan.
Following Dekalog Kieślowski was presented with greater possibilities for funding, and opportunities to work outside of Poland.  His first international co-production, The Double Life of Veronique, is still probably his most significant piece of art.  Kieślowski and cinematographer Sławomir Idziak crafted their own golden yellow camera filters for the film, which were used for every shot, and gave the film its own singular look.  Of course, Blue, White and Red also employ filters, but never in all of cinema have I seen a vision so "complete" and "uniform" (Kieślowski's words), in its color, as Veronique.  There are three actresses in cinema that I find myself particularly enchanted by: Monica Vitti, Anna Karina and Irene Jacob.  Veronique was the film, along with Red, which introduced me to Irene Jacob.
The international co-productions Veronique, Blue, White and Red have often drawn the ire of Polish critics, who complain that Kieślowski's commitment to realism folded in favor of melodrama.  I've often wondered if there is validity to their argument?
Once a year, over the last three years, I've made a habit of watching all three films.  Upon every viewing, I'm continually moved to places emotionally, that most other films cannot take me—I always leave feeling encouraged by the possibilities of life.
Kieślowski's stated goal was to create something that could be "sensed" more than "seen."  I  find myself convinced by the effect that the films have over me, not so much as when I am watching them, but afterwards—not because they are thought provoking, so much as the sensory experience which occurs.  Emotion is the key word of Kieślowski's cinema; emotion which denies melodrama.  The argument can be made that this emotion is most deeply felt in Kieślowski's final four films.
Another question I've been forced to ask myself: does Three Colours over-engage in symbolism, or are all of its recurring ideas merely an illustration of the connections which occur every day, from moment to moment, throughout this world, under our very eyes (while we are too blind to see them)?  Good filmmakers should reject the notion of (literal) symbolism as often as possible, so as to not invite any potential contrivances.  Directors have to walk a fine line, but there is an important difference between ideas, concepts, sounds, colors and images which reflect a greater vision at work, and symbols which echo stuff related to plot or characters in a manufactured way.  Kieślowski's goal as a filmmaker was to get away from the concrete—from the visual evidence on the screen—once again, "sensed" rather than "seen."
Perhaps more so than in any other film(s) I know, music is at the center of Three Colours.  How many films are there which fully allow the space for music, for a composition, to be so innate within the images that when we listen back to the music on its own we feel the same sensations as we would when actually watching the film itself?  Can film scores merely be seen as the accomplishment of a brilliant musician?  Ridley Scott's Blade Runner is a film which completely realizes the bond between music and image—Michelangelo Antonioni's L'eclisse and Alain Resnais' Last Year at Marienbad are some others.  The director's vision must be so perceptive, so embedded within the mind of the composer (Zbigniew Preisner, in the case of Kieślowski's later films), as to inspire an accompanying masterwork—why is this so rare in our modern cinema?
Blue: Liberty.  White: Equality.  Red: Fraternity.
Ideas and questions, rather than symbols, are the heart of Kieślowski's cinema.  Just like each of the ten episodes of The Dekalog, there is a broad-scale of thoughts and emotions at work, which extend far beyond the label of an idea, like "thou shalt not kill" or "thou shalt have no other gods before me" or the ideals of the French Revolution.
Perhaps the most singular element of Three Colours is the setting: in our world today, films set within the last 20 years tend to run a greater risk of becoming dated quickly.  Even though Blue, White and Red were filmed in Europe, the image context, of the 1990s, presents a picture that I know—one that parallels the modern life I've grown up around, inside an outside of a large metropolitan city—because of this, maybe Three Colours allows for an even deeper emotional connection, for people currently in their 20s?  Are these images within the film more connected to us than those of a generation which we weren't a part of?
"As for chance, not much depends on chance.  It's more about the path we choose than who we are." -Kieślowski
Does life merely occur by chance or destiny?  Is it by a creator?
Why do we choose to so often reject that which connects us all together?
The first time I saw Blue, I may have been more affected by it than any film I had ever seen to that point in my life.  Why?  The answer doesn't come to me easily.  My personal experience at that time would lead me to believe that I sensed and related to some of the complexities that were occurring within the mind of Juliette Binoche's character in the film.  My way of decompressing some of the changes that had occurred in my own life, over the previous 2 years, was rooted in an anger which manifested itself in the form of quiet denial.  At that moment, I felt as if I could have been one of the characters in the film's concluding montage, celebrating emotional liberty.
The second time I watched Three Colours, White seemed to affect me the most.  It's a moment of conviction when we suddenly realize that if anger is what drives us, rather than love, we are drawn toward revenge—to prove something to ourselves, at the expense of ruining other's lives.  If it is rooted in self-interest, it isn't rooted in love.
Time and again, Red and Veronique continue to ask their questions to me, in even more direct ways, upon every viewing.  The unseen connections of life are always lurking and whether or not are eyes observe them, they are still a part of our being.
There's a pretty stark contrast between Veronique's interaction with the puppeteer, rooted mostly in his lust and her anxiety, and, Valentine's interaction with the judge in Red.  The latter of these connections characterizes a complete interaction between two human beings—a reflection, and, a climax to all of the relationships and connections that have occurred throughout Three Colours and all of Kieślowski's films.  That kinship, that complete communication, is what we're all longing for when we come in contact with another human being, right?
In the final years of his life, Kieślowski often said the only thing he desired was "calm."  At the center of Kieślowski's cinema is the dilemma of artistic instinct versus love, typified by the lead character's experiences in Camera Buff, or the puppeteer's exploitation of his relationship with the French Veronique in The Double Life of Veronique or the photographer in Red.  We realize over the course of his films that relational intentionality, rooted in love, is more rewarding than self-fulfillment and ultimately what leads to peace.
–SE, October 17, 2012
Top 10: Woman in the Dunes (Hiroshi Teshigahara, 1964)


If there is one thing I can say with absolute certainty about the directors I've studied: Hiroshi Teshigahara is the most underrated director of all time.  I'm thankful that the Criterion Collection has valued his work enough to release all four of his masterpieces, Pitfall, Woman in the Dunes, The Face of Another and Antonio Gaudi.  My prayer is that there will come a day when people become more familiar with his work—because, it is magnificent.
Together with novelist Kōbō Abe and composer Toru Takemitsu, Teshigahara became a rare filmmaker who was able to create films which articulated certain vicissitudes so precisely that they can only be described accurately as parables—but how often does this sort of film retain its power?  The parables that we read the most repeatedly are the ones that pierce us—cutting through, so direct, so true and so refined that we must listen to their careful considerations.
Like biblical parables, Pitfall, Woman in the Dunes and The Face of Another are rare films, of this vein, which invite us back time after time for further investigation.  The depth of detail provided by Teshigahara in all of his films, and particularly in Woman in the Dunes, stretches beyond what the human eye is capable of seeing.
Initially, a vast sea of sand is shown; later, we see shapes and lines in the sand walls, which at times bear a striking resemblance to some of the sculptures and fine art that Teshigahara filmed in Antonio Gaudi.  Later, telephoto, close-ups expose the crystals in their rawest form, as the camera focuses on individual clusters of sand.  Like Antonioni's films, like Tati's films, the atmosphere is the film's protagonist—the sand is the protagonist of Woman in the Dunes.  We watch closely as it covers the lead characters' bodies, faces, necks, legs, knuckles—Teshigahara wants to examine the utter dominance of the environment over its inhabitants.
There are close ups on objects like watches, scissors, shoes and basically every other imaginable facet of the tight quarters in which the two main characters are forced to live—these "object" shots play an interesting counterpoint to the telephoto shots of crows, bugs, insects and dead fish.  We feel enclosed in the same way characters literally are, as the sand dune slowly moves in towards their home.  The sand is ceaselessly skulking, caving in, and Teshigahara is never afraid to provide us with visual evidence.  Claustrophobia has never felt so authentic, as in this film.  Perhaps that is why some people have even gone so far as to label Woman in the Dunes "avant-garde"?
The films images are often presented from a microscopic, godlike point of view.  As a result, the parable of Woman in the Dunes is more tangible, because we can view the images so intimately—in a way that makes us feel rather helpless.  Suddenly, we realize that there is a legitimate body to something as minute as a beetle.  How well do we really know our surroundings?  How much of this world can we actually see, in full detail?
Conceptually, there are few films as interesting as Woman in the Dunes.  A teacher visits a remote area, filled with sand dunes; he is looking for insects, with the hope that his name might one day end up in a field guide.  He is tricked into spending the night with a woman who lives in a house at the bottom of a sand dune—unable to escape, he and the woman are forced to labor, in order to survive, by ceaselessly digging sand.  The film provides us with a myriad of ideas as to why they must continue their struggle, but ultimately they are powerless against the system by which they are being exploited.
There is a voice over section from Woman in the Dunes that continually haunts me:
"The certificates we use to make certain of one another: contracts, licenses, ID cards, permits, deeds, certifications, registrations, carry permits, union cards, testimonials, bills, IOUs, temporary permits, letters of consent, income statements, certificates of custody, even proof of pedigree. Is that all of them? Have I forgotten any? Men and women are slaves to their fear of being cheated. In turn they dream up new certificates to prove their innocence."
In this world, everyone is searching for identity.  Teshigahara's first three films (much thanks to Abe's writing) wonder whether this escape from identity is possible.  Is "identity" a mask within itself—a veil from being "cheated"?
–SE, October 3, 2012
Top 10: 2 or 3 Things I Know About Her (Jean-Luc Godard, 1967)

 
QUOTATIONS.  BELIEFS.
"Everything should be put in a film."
"I wanted to include everything: sports, politics, even groceries. Everything should be put in a film."
"You might say that advertising is like a pimp, and we're its whores.  It deprives us of our freedom."
–Jean-Luc Godard
THE AUTEUR.
If someone asked me to define the phrase "film auteur" in a single name: Jean-Luc Godard.
Of course, a single name isn't fair, but that answer but it would more than suffice.
There may be more than a few directors whose work is, or seems to be, immediately identifiable; but, I can say with complete conviction that no one reflects the word auteur as wholly as Godard.
A FEW THINGS.
The whole film, 2 or 3 Things I Know About Her, reflects the bond between image and language—how objects describe a place, a time, a thing—sometimes in the same way as words and often in a way, far beyond, which words are not capable of describing.
The important thing to understand about 2 or 3 Things I Know About Her is that Godard sees prostitution of the body for sex and prostitution of the mind as one in the same.  Juliette says "it was as if I were the world and the world were me"—a mere reflection of the images (good and bad) which surround her.  A face is indeed "like a landscape."
His method is quite different, but Antonioni is the only other director I know of who was able to connect what Godard called "the increasing interaction between image and language".  Everything that occurs in 2 or 3 Things is an expression of how moving images, without language, speak.  Do the images which accompany individual moments in time compose the mise-en-scène of life?
DEUX OU TROIS.
Godard did.
Put everything in this film.
In fact everything he put in the film was so refined and utterly effective, I'm not sure I really have the right words to describe it.  I'm not sure the images—the objects of consumerism—of advertising—of contemporary society could be assessed as fittingly by another artistic medium.  Motion picture film may the proper canvas for everything of the 'modern' world.
THE MUSING OF A GENIUS.
What is an object?  When an image is dead, it is still alive; it can still exist before our eyes.  When a person is dead, they cease to exist in the image, in the object, that we know them as.
SUPPOSITION?
If I was asked by someone for advice on a single director, through which one could learn cinema and the possibilities of the art form: Jean-Luc Godard.
 –SE, September 24, 2012
Top 10: The Godfather: Part I (Francis Ford Coppola, 1972)


Francis Ford Coppola was right.
Surely an innovator, I'm not sure Coppola can be described as an auteur—more appropriately, he was right.  When watching The Godfather, The Conversation, The Godfather: Part II and Apocalypse Now something just feels right—there is something bleeding from those films that just says this is the right way to make films if you absolutely want to please everyone.
Of course, I'm not a person who believes there is a right way to make a film.  Coppola isn't necessarily my favorite filmmaker or the one who inspires me the most, but there's not a bone in my body that can deny that stretch of four films as perhaps the greatest by any director in any era.  If you look at the rest of Coppola's films it may lead some to believe that the man was simply in the right place at the right time, collaborating with all the right people, but that's a cop-out—this was never a mere accident.
The Conversation has to make you wonder though, right?  If Coppola was capable of creating a completely overshadowed, smaller scale, masterpiece in between his two Godfather films; why was it so difficult for him to reach such heights again?  Sure, the energy of 1970s American cinema was palpable, the same way it was in France during the 1960s—why would any aspiring artist shy away from the chance to be a part of this great new wave of excitement?  The directors were the ones carrying the films, but they were never alone, and Coppola's films were the greatest reflection of complete collaboration in the history of cinema.
Like Terrence Malick's The Thin Red Line, Apocalypse is a film so singular in its various ponderings on the chaos—the spiritual warfare within the heart of man—that it is hard to actually call it a "war film" or "the best film about the Vietnam war"—such rhetoric only ties it together with other "war" films.  The conflict at the heart of man, that unsettling madness infects everyone in Apocalypse—it is in the eerie tension underlying every sequence—from Harrison Ford, G. D. Spradlin and someone else sitting in a room delivering Martin Sheen his assignment to the Playboy Playmates hustling back into their helicopter.  Men allow anarchy to reign even when they know they absolutely have the ability to escape it.  Werner Herzog might disagree with me on that, but we'll get to his film, which had a particularly large influence over this one, later on.
When you really think about it The Conversation is pretty damn chaotic as well; seamlessly completed by Gene Hackman sitting on the floor, on the floor of his gutted apartment, playing his saxophone.  And, when you think about it both The Godfather and The Godfather: Part II are rooted in the idea of a bunch of people who think that the total chaos that they live in is, essentially, organized and acceptable.
Who couldn't spend hours on end talking about the niceties of The Godfather, about every single component that is still simply mind blowing, over 40 years later?  Every one of our cinematic senses is so deeply engrossed by the vision(s) of Puzo, Rota, Brando, Pacino, everybody—Coppola allowed for every artist to be complete in his or her work.  Gordon Willis; well, when he talk about The Godfather, he just gets his own sentence.
It is the greatest collaborative effort in the history of cinema, it is undoubtedly the central film of 1970s American cinema and The Godfather: Part I is the greatest Coppola film.  If there is a single film that explains what it means to be American, what it means to be corrupted by the idea of a dream of a better life, it is this one.  Playing out like a Greek tragedy, Michael Corleone becomes the American man; a man who wasn't about himself, who deeply served those around him, but, somewhere in the chaos of life has allowed evil to completely control him—confusing personal ambition with protecting his family—only worrying about himself and his ideals—about what has to be done to reach some tainted, and unrealized, sense of legitimacy.
–SE, September 17, 2012
Top 10: The Gospel According to St. Matthew (Pier Paolo Pasolini, 1964)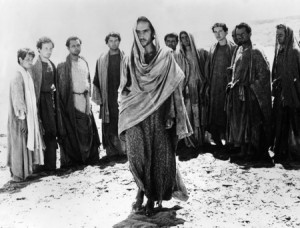 Jesus of Nazareth wasn't the messiah the Jews or the rest of the world expected.
Pier Paolo Pasolini wasn't the likeliest person to direct a film about the life of Jesus.
Throughout the Old Testament you can read story after story of God using the most unanticipated of people—there's a reason why Pasolini's film is by far the greatest cinematic depiction of the gospels.  Pasolini had no reason to idealize the story of Jesus, in the same way that so many people in the western world have, as a white, bearded man, with flowing hair— by no means is the viewer ever invited into the images a white person might expect to see when perceiving the external appearance of Jesus.
I've read the story of Pasolini sitting in a hotel room, reading the four gospels, and feeling compelled beyond measure to direct an adaptation of the story for the screen.  It seems fitting that someone with no belief or real background on the topic could do such incredible justice to the story.  Pasolini, literally a poet by trade, saw something pure and beautiful—particularly in his reading of Matthew.
Some films on Jesus have been made for the sake of religious or political statement, rather than as a historical document.  Pasolini's rendering of the film illustrates that he envisioned the words on the page as poetry—as love—isn't that the way God intended for his story to be told?
Pasolini cast a 19 year old Spaniard as Jesus; easily believable as a man of Galilean decent.  Like Robert Bresson and so many Italian neorealist directors which preceded him, Pasolini deferred to casting non-actors.  Perhaps his most important decision was against shooting, on location, in the Holy lands—citing that many of these places, now, lacked the appearance and impression of Biblical times.  The atmospheres of the locations in Italy, which Pasolini chose, appear remarkably authentic—of course, we have no way of knowing precisely, but there seems a very tangible historical legitimacy, akin to The Passion of Joan of Arc.
Every facet of The Gospel According to St. Matthew lends way to not romanticizing the written words—Pasolini himself said that "images could never reach the poetic heights of the text."  Jesus is depicted as a plain, humble man; spare in appearance, moving tenderly, with his disciples, across rugged and dusty terrain.
Martin Scorsese once described Pasolini's use of faces as reminiscent of "Renaissance art," adding that, like real life, "there are no transitions between scenes, characters come and disappear, they reappear in no dramatic way."  The film is so far removed from any sort of dramatic end or spectacle that it feels like there is something deeply spiritual in the way the images move so unworriedly from one to next—this is a film that doesn't feel like the construction of the world.
–SE, September 13, 2012
Top 10: Last Year at Marienbad (Alain Resnais, 1961)


Alain Resnais isn't a "difficult" filmmaker.  Watching Resnais' films is like walking through an art gallery, where the viewer is given the opportunity to meditate on painting after painting.
Jacques Tati was always imploring critics, directors, producers and other supporters of the arts to value and invest in short films; in "giving young filmmakers a chance to express themselves."  Resnais' rise as a young filmmaker offers particular support for the importance of short films; for almost 15 years, before he began working on features, Resnais collaborated with others to create some of the greatest short films ever made by anyone.  Night and Fog is the best and most influential film on the subject of the Holocaust; contrasting 1940s B&W images of the concentration camps versus long tracking shots, filmed by Resnais, some 10 years later, in 35mm color.  I don't see the structure of Resnais' first two features, Hiroshima Mon Amour and Last Year at Marienbad as being any different than that of Night and Fog or Le Chant du Styrène, a masterful short film on the then emerging industry of plastics.
Between those four, the first two being considered documentaries and the second two being considered features, I don't see many differences in their "narrative" construction as films.  Of course, Hiroshima and Marienbad have "characters", but never are those "characters" the protagonist in the film.  The protagonist is always the images that make up the film's atmosphere, whether it those of the Holocaust, those of a French Industrial Plant, those of Hiroshima, those of a small town in France or those of a rather imposing European château.
Why do viewers draw such a distinct line between documentary and feature?  In 1959, Hiroshima, may have been the boldest and the most intriguing piece of cinema ever made—looking back, I still cannot think of a film that I have seen which so drastically changed the way in which a "feature" film could be conceived.  Hiroshima moves impeccably from old (1945) footage to new (1959) footage of a place—thus, the old and the new are one in the same, creating a film rooted in memory—a film about, both, wanting to forget and wanting to remember.  Perhaps, the most shocking accomplishment of Hiroshima is the footage that Resnais shot in France, recounting flashbacks to the war in Europe in 1945.  In the scenes recalling Nevers, France, the viewer may be curious as to whether they are actually watching "documentary" footage, as memory is so deeply rooted in every moment of the film.
Last Year at Marienbad continues Resnais' connection between image, documentation and memories, without having the "historical context" of the other previously mentioned films.  Perhaps more than any film in history, the director is begging the audience to look at the image that is presented on the screen; many times, completely stalling the movement of all people in the frame—quite literally creating still works of art, where camera movement allows for an ever changing and broadened perspective of these figures inside the grand hotel.  Even in Kubrick's The Shining, which is very much rooted in Marienbad, we know that we are watching a feature film.  Like Night and Fog, like Hiroshima, does it not feel like someone was present at Marienbad, carefully watching, carefully documenting every corridor, every hallway, every statue, every person, every facet of this time and place?
Is there a better film to study shot by shot composition than Last Year at Marienbad?
Image renders helpless any debate over "what Marienbad is really about."  It is a puzzle that was never meant to be solved, except by each and every haunting shot which Resnais edited into the film.  Every image seems to emit a different question of its own—in life, were we not designed to ask questions?  To look at the life which surrounds us in images, and ponder its meaning—its beauty?
–SE, September 9, 2012
Top 10: Playtime (Jacques Tati, 1967)


To call Jacques Tati's Playtime "elaborate" or "atypical" wouldn't be fair.  Such words invite comparison, and, Playtime, on the whole, may be the only film I know of which literally cannot be associated with anything else (outside of Tati's own catalog) in the film world.
Francois Truffaut once described Jacques Tati's Playtime as "a film that comes from another planet, where they make films differently."  Many films can be described as "singular"—many can be described as "ambitious."  But, of those films and those filmmakers how many had to mortgage the rights to all of their previous films, their life savings and their inheritance in order to achieve their dream?  In that sense, I'm more inspired by Tati's dedication to the art form than by any other filmmaker.
By the time Tati set out to create Playtime in 1959, he already had two other masterpieces under his belt in Monsieur Hulot's Holiday (1953)and Mon Oncle (1958).  The 1953 film was the first to introduce Tati's Hulotcharacter, which has often, and justly, compared to Chaplin's The Tramp.  The physical comedy of Hulot and The Tramp are distant relatives, but, unlike Chaplin, Tati is often very subtle— the Hulot character is never the underpinning of the film itself—and, Tati is rarely trying so obviously, as Chaplin, to make his audience laugh.
Tati's films are, most of all, rooted in atmosphere—in the things, the sounds, the people and the memories of a time and place.  In both Monsieur Hulot's Holiday and Mon Oncle those moments play out in a fashion more akin with silent cinema—the Mise en scène is paramount—dialogue, in the way we conventionally know it, is non-existent in Tati.   Thus, our attention is always fixated on the slightest creek of a door, the moan of a seat cushion, the ripping of fabric or the disquieting sounds of modern gadgetry.  As valuable as sound is to Tati's films, I still feel like if I watched them without sound they could be every bit as interesting—probably offering further insights into his genius.
Yes, to some extent, Tati's final film, Trafic works well as a continuation of the concluding scenes from Playtime (where cars and busses swirl around in an aimless, gleeful circle).  But, although it was made long before Playtime, I see Monsieur Hulot's Holiday as somewhat of a response or continuation of Playtime.  At the end of Playtime, the people at the restaurant in Paris have suddenly discovered that humanity is more than just straight and rigid lines—there is delight in existence, in living, in dancing, in a comedy of errors.  Monsieur Hulot's Holiday explores the possibilities of life, outside of the busyness of contemporary society.  Although, Tati isn't afraid to show how people still allow themselves to be limited by social roles even when they're on a supposed vacation away from modern world.  Depending on how you interpret it, it could also be seen as the precursor, the Genesis, to Tati's work—like The New World to Malick's films—the triumph of simplicity?  If you had asked Tati what his final film was, he would have simply stated "Playtime."  It was the only film with which he felt completely satisfied, saying that it more or less communicated everything that he wanted to convey through the medium of film.
Despite over 9 years between the two films, Mon Oncle is an ideal precursor to Playtime.  Tati's first color film, watches Monsieur Hulot as he stays with his nephew, who's parents live in an uber modern house, filled with contrived decorations and all kinds of unnecessary electrically operated gadgets.  The simple, innocent, Hulot is the seamless opposite of this world.
So, it makes sense that Playtime, which Tati started working on in 1959, was the next film—taking every impression of ultra-modernism to the furthest degree.   Tati said that he wanted it to be a color film that looked like B&W—focusing primarily on a color scheme of blues, grays, blacks and grayish whites.  Shooting with a Mitchell Camera, in the rarely used hi-fi format of 70mm, allowed Tati the ability to include greater detail in each shot.
Tati's cinema was exactly that—one of detail, and, one which took painstaking efforts to carry out.  For Playtime, a town, dubbed as "Tativille", was assembled.  Tativille was complete with roads, working traffic lights and a power plant; all of which needed to be constantly maintained in order to create the effect which Tati desired.  Once the enormous set was built, filming began and took over two years to complete.  By the end of the project, the film was easily the most expensive in the history of French Cinema and Tati was eventually forced into bankruptcy following the commercial failure of the film.
The intricacies of Tati's cinema were perfected in Playtime—the 70mm format, combined with his love for wider angle lenses allowed for an enormous canvas with which the entire space of the screen could be used for different things.  Take the nearly 45 minute restaurant sequence for instance; there are multitudes of people onscreen, many of which are involved in seemingly unrelated tasks—the audience is granted a total overview of almost everything which is happening within the restaurant at all times—one has to watch closely, near the corners and edges of the screen, to completely understand what is going on.
Forman's The Firemen's Ball is not comparable to Playtime, but it's worth briefly mentioning because it helps illustrate the genius of Tati.  The Firemen's Ball (in itself, also can be called a masterpiece), which observes the confusion of a group of firemen attempting to host a party in communist Czechoslovakia, was filmed with a concept of chaos within a relatively confined space.  It's worth watching The Firemen's Ball, if anything, just to realize how differently Tati handles chaos and confusion than other good directors.  There's a reason why Tati spent seven weeks filming the restaurant sequence and there's a reason why so many of the takes in that sequence are so much longer than those that you might see in another film.
With these long takes, often removed quite a ways away from the heart of the action, the audience is the one who is thevoyeur, viewing genuine human interaction from a non-idealized viewpoint.  Everything in Playtime is large in scale, from the modernist skyscrapers to the seemingly endless hallways, people are dwarfed and governed by all of the things which surround them—that is, until they come to the realization in the restaurant that they don't have to be so inflexible.
–SE, September 5, 2012
Honorables: There Will Be Blood (Paul Thomas Anderson, 2007)


I prefer There Will Be Blood over Citizen Kane.
Tell me, what other film can we hold as the standard in modern American cinema?
I know of no other film, in the recent past, which utilizes linear narrative form as effectively as Paul Thomas Anderson's There Will Be Blood.
–SE, August 18, 2012
Honorables: The Passion of Anna (Ingmar Bergman, 1969)


Pick one Ingmar Bergman film?  How about I try to pick the top ten, and we'll still be left with more than a few omissions…
The Magician (1958)—at this juncture, probably my preference, and the most undervalued film, of his pre-1960 work—essential to understanding the transition into his next decade of work.  I'm amused by people who see The Magician as a 'horror' film; I see it more as a 'realist' comedy— the focal point at which Bergman grew out of youth, or as he called it "puberty".
Through a Glass Darkly (1961)—of all Bergman's work, I'm not sure there is a better film to showcase the imagination of Sven Nykvist, and his framing of people together—that aching distance between two people; so close, yet so far from each other, within the same physical space.
The Virgin Spring (1960)— the first time I watched this film was the night before my brother was hit, and almost killed by a car, some three feet away from of me on a morning jog.  I had the words "you watched it" flying through my head for those long minutes and hours following the accident.  The ultimate triumph of good over evil, among a flawed humanity, is indispensable to Bergman.  A beautiful study of both humility and liberation; if one were to watch all of Bergman's films, this could function quite suitably as the concluding piece.
Scenes From a Marriage (1973)—I can't think of any other film I've seen that uses telephoto lenses as aptly, for the framing of one shots and two shots of the human face, as Scenes From a Marriage.
Winter Light (1963)—I've got an idea, it goes something like this: I drop everything I'm doing right now and go spend the rest of the day watching Bresson's Diary of a Country Priest, Melville's Leon Morin Priest  and this film—all of which are masterpieces.  No, but seriously, I feel like there could be weeks on end spent in deep study of the contrast between those three priests.  Of the three, Bergman's film is by far the coldest—gazing at a man who is calloused rather than compassionate—not open to the love of those surrounding him.  Is it a study of Bergman's own father?
Cries and Whispers (1972)—"All my films can be thought in terms of black and white, except for Cries and Whispers. In the screenplay, I say that I have thought of the color red as the interior of the soul. When I was a child, I saw the soul as a shadowy dragon, blue as smoke, hovering like an enormous winged creature, half bird, half fish. But inside the dragon, everything was red." –Ingmar Bergman
With its singular use of red, white and black for the film's interiors, I have seen very few films that utilize a color scheme as effectively as Cries and Whispers.  If I could select one piece in which Bergman demonstrates his most complete mastery over the fine art of filmmaking, it would probably be this one.
Hour of the Wolf (1968)—if someone wanted to classify this as a "horror" film it would probably be the greatest ever made.  No, The Shining is not a "horror" film.  Last Year at Marienbad?  Not a "horror" film either.  What the hell does "horror film" even mean?  I love the intricacies of Bergman's imagination that both this film and Persona put on display—the surreal, together with the real—the art of the dream.  Stop wasting your time with Inception and Black Swan.  In Hour of the Wolf, we are never quite sure what is happening or what has happened and when the film concludes we don't necessarily have any better ideas.  The film is told purely on the terms of the director, unlike anything you would see in modern Hollywood.
The Silence (1963)—impressions and atmosphere are paramount to The Silence; even more than in many of Bergman's other films.  A world in which the viewer is at as much of a loss as the characters in the film.  To a child—where are they?  What is going on? Literally, what language is being spoken?  The discomfort is unconcealed, like Repulsion or Solaris, where everyone seems to be constantly perspiring.   Through form and image, we are presented a picture of reality—of our weaknesses—our frailty, as humans.
Persona (1966)—and here is the Bergman film I've watched the most times.  Like Godard's Breathless or Kubrick's 2001 it is a picture that is immediately capable of changing the way that one looks at film, for the rest of their life.  There's really not a whole lot for me to say—the film has to be seen by anyone who is interested in film.  In the depths of day to day experience, our lives can play mirror to Persona; especially when we find ourselves wedged inside the same living space as another person.  When we argue or complain to that person, at some point are we just irritable because we see our own weaknesses being projected back through them as well?
The Passion of Anna (1969)—in many ways, I truly believe this is Bergman's central film.  I see it as a comment on man's lust for truth—truth in all things—truth as defined by humans.  I also see it as a comment on obsession, more so than on passion.  Ultimately, Andreas is more fixated on winning and being correct, than he is passionate about loving Anna.  Nykvist's subdued use of color plays an ideal counterpoint to a universal lack of empathy—expressed in the way the characters coldly respond to the tragedies of the other living beings which surround them.  Whenever we have the opportunity, why do we so often defer to the obvious or subtle humiliation of another person, when love is what we're all crying out for?  How do we allow our passions to become so twisted by the physical world?
–SE, August 17, 2012
Honorables: Amadeus (Milos Forman, 1984)


I'm having a moment.  It is one of those moments; lost in plethora of thoughts and dreams as I, ever so lightly, roll pool balls across a table filled with opus after opus.  Oh, what a joy it is to be lost in an everlasting shimmer of imagination as the ideas in my "noodle" are slowly penned on to my composition.
Once there was a film; one in which the creative process was refined in to a single picture.  Milos Forman directed it, F. Murray Abraham played Antonio Salieri and Tom Hulce played Wolfgang Amadeus Mozart.
Forman's film is so meticulous, it is hard to imagine the actual events of Mozart's life unfolding any differently (even as historians would tell us the reality of Mozart's death was quite different) than what we're shown on screen.  I would be hard pressed to find any individual sequences or images from Amadeus that are not forever etched in my mind.  Every scene is a masterpiece—Forman made a film that was so compelling, that we actually yearn to connect with the madness, the audacity, the laughter, the naiveté and the genius of this "vulgar child"—gifted as a chosen artist by God.
Is the creative process forever misunderstood by those outside of it?  Without humor, without a pulse, what do become?  Antonio Salieri?
–SE, August 13, 2012
Honorables: Tokyo Olympiad (Kon Ichikawa, 1965)


As it should happen, The Games of the 30th Olympiad are going on right now in London.  And, what a different Olympic Games it seems than those of nearly a half century ago.  In looking back through some of my notes; right now, does it not seem rather relevant to ponder a few of the things Kon Ichikawa shared in an interview some 30 years after he directed Tokyo Olympiad?
"I think the nature or spirit of the Olympic Games has been distorted and become a bit materialistic—I don't think it needs to expand or be so showy."
"It seems a little bit scripted to me."
"It seems to be a bit overblown, beyond the true nature or spirit of the Olympics."
"I'm just an amateur who experienced the Olympics at the Tokyo Games for the first time, but an Olympiad by itself is such a wonderful thing without all those additions.  I think its pure form makes it more wonderful."
The organic nature of pure, untainted athletic competition—what a beautiful thing it once was…and what a beautiful thing it can still be for those who choose to play by the rules.  In 2012, it isn't pessimistic or cynical to, not just assume, but, absolutely know that many of the athletes who win Olympic medals have engaged in dishonesty on some level—it is an utter fact, fueled by the rapidly evolving greed that so many people have allowed to define the world in which we live.  The word "materialistic" doesn't even do justice to the way that the Olympics are covered now—from empty advertising to television coverage which documents in a rather "scripted" manner, only based off what will generate the most money and viewership, while constantly cutting away from the actual competition to idealized, poorly edited, shorts on many of the athletes.
Olympia,Leni Riefenstahl's 1936 documentation of the Berlin Olympics, focused on the external—the glory and the immense capability of the human body—often photographed using low angle shots designed to capture the athletes in Godlike form.  Ichikawa's film is more concentrated on the internal struggle of the athletes—deferring mostly to highly telephoto lenses—often more alert to the face and form of the athlete.  Rarely has a documentary of any kind, paid such close attention to the complexities and language of the human face, in its deepest states of fear, intensity, anxiety, physical strain and jubilation.  Although the film wouldn't feel as humane without its quirky attention to detail—Ichikawa never takes the competition too seriously—often the camera will unexpectedly cut to a shot of something far less serious; something rather droll.  Certainly, this is a huge contrast to Riefenstahl's film and an interesting counterpoint in image (like Chaplin or Tati) to the unrelenting competition that ensues for sixteen days during each Olympic Games.
Ichikawa's use of slow-motion 35mm cinematography may be the most effective in the history of cinema.  Could there possibly be a more appropriate use for shooting at more than 24 frames per second?  The most significant cinematic achievement of the film is certainly Ichikawa's documentation of Abebe Bikila and the Olympic Marathon.  If only all marathons could be covered in such a way—deeply meditating on the image—connecting the battle the athlete is fighting, with every step toward the finish.
Tokyo Olympiad served as a hugely important film in the Japanese New Wave, which is easily one of the most underrated movements in the history of film.  The film's influence over athletic cinematography today is immense and many of the young filmmakers who cover athletics are not even aware that they owe so much to Ichikawa.  More than any other film, Tokyo Olympiad greatly inspired the cinematography in Chariots of Fire.
Chariots is one of the films I had the hardest time leaving off of this list.  To me, it seems deeply linked with Tokyo, not only in the way it depicts the events of the 1924 Paris Olympics, but in the way it contrasts and connects people—particularly the stories of its two protagonists; Eric Liddell and Harold Abrahams.  We all live within the borders of the same world; how we choose to live is either rooted in the here and the now or in something eternal.
–SE, August 10, 2012
Honorables: Strangers on a Train (Alfred Hitchcock, 1951)


Recently, some friends and I were having a conversation about Vertigo's continually growing acclaim in critical circles.  Someone else noted that its prominence has evolved unnaturally, because of the fact that it was out of circulation for quite a while.   Is Vertigo is a great film—a masterpiece?  Yes, butI've always contended that Notorious, Strangers on a Train and Rear Window are better Hitchcock films.
I have a hard time calling one Hitchcock film the definitive "best."  I'm often partial to many of his B&W films, and Strangers is my preference.  From Robert Walker's long shadow to his devious stares, Hitchcock crafted perhaps his most fascinating character in Bruno.  Conceptually, is there Hitchcock film capable of generating as much scene to scene intrigue as Strangers?
Two strangers on a train, oversized glasses, an amusement park, a tennis match, a motionless face among swiveling heads, a strangling exhibition, a cigarette lighter, a violent carousel ride?  As a thriller and as a noir, it would be hard to cite a film more artistic and adept in its 'entertainment' than Hitchcock's Strangers on a Train.
–SE, August 9, 2012
Honorables: The Passion of Joan of Arc (Carl Theodor Dreyer, 1928)


There's no way that my writing can do this film justice.
Dreyer's other great films?  Ordet?  Vampyr?  What comparison can I possibly make?
It is a piece of cinema that has to be experienced.  Even so, how can we truly understand it?  If there was one film, ever, that is truly believable as a historical relic, this would be it.
Watching Maria Falconetti as Joan of Arc surely makes it feel like the film has to be some surviving documentation of events from the fourteenth century.  Never has the face of an actress felt so real and genuine to the material than Falconetti in The Passion of Joan of Arc.  It is the single greatest performance, by any actor or actress, in the history of cinema.
–SE, August 6, 2012
Honorables: Secret Honor (Robert Altman, 1984)


Selecting one film for any of these directors isn't fair—but, of all the filmmakers featured on this list, I will admit that selecting a single Robert Altman piece was by far the most challenging.  I actually changed which film I would feature twice while writing this; from 3 Women to McCabe and Mrs. Miller to Secret Honor.  This is the sort of impossibility that the people who actually vote in Sight & Sound are forced to endure.
When I was studying modern noirs a few years ago, The Long Goodbye served as my introduction to Altman—the reason why I became interested.  Altman's Marlowe is the most interesting of all the films regarding the character; who can forget the opening sequence with Elliot Gould trying to feed his cat?  If one actor was made for Altman, it was Gould—even as Marlowe dispassionately mutters we're still intent on his every word.  There you have Robert Altman, we are forever rapt in his world of casual, momentary conversation.
Nonchalant, passing words create a feeling of real time—his use of dialogue on its own is enough to make his films immediately identifiable to a fault.  3 Women (1977)is the epitome of Altman talk—even when the characters don't want to listen or take part, they're brief words of indifference are far louder than those of the person talking to them.  The mostintense feeling of distress I have felt watching any film comes from 3 Women, even more so than Bergman's Cries and Whispers.  Like many of his films, Altman made it with no script; generating a film rooted far more in emotion than in plot.  The feeling of unease is so tangible it actually hurts to watch—yet, why are we continually fascinated upon its conclusion?
Plot is equally irrelevant in almost all of Altman's great films; in both Thieves Like Us (1974)and A Wedding, we're drawn most of all to the images that make up each atmosphere and the strange quirks of individual characters—whenever I recall Nashville the one thing that I'm constantly reminded of is Geraldine Chaplin's character walking around with her tape recorder.
McCabe and Mrs. Miller seems the logical choice for me from Altman's work, with its great attention to detail in both lighting and cinematography…but, the only thing that could possibly be better?  Richard M. Nixon. Is there a more fascinating character study in 20th century American politics?
After seeing Phillip Baker Hall play Nixon in the stage production of Secret Honor, Altman became interested in documenting it as a film.  With every one of his 90 minutes onscreen Baker Hall's Nixon becomes more enticing; talking to himself, as Altman's camera turns the paintings in Nixon's study of Kissinger and Eisenhower into opposing characters.  Nixon slams each of his enemies in fits of rage; also pondering, often in sadness, what could have been together with what was ("you know what I really used to enjoy… I used to get a kick out of calling in plays for the Redskin coaching staff on the white phone, and going over the bombing targets with Henry, on the red phone, at the same time—THAT'S FUN!").
It may not be the film which best represents his work, but when in cinema has there been a more singular construction of a one man show than in Robert Altman's Secret Honor?  The ruthless Nixon has a strange parallel to Altman himself; by 1984, Altman had been frequently misunderstood by the public and Hollywood alike—just as Nixon rants about not wanting to be the puppet of the "Bohemian grove" crowd, so was Altman—forced away from an ever evolving American culture of movies designed solely for commercial gain.
–SE, August 5, 2012
Honorables: Cul-de-sac (Roman Polanski, 1966)


During the 1960s Roman Polanski made three films in Europe, arguably his three best, before departing for Hollywood.  In Knife in the Water (1962), Repulsion (1965) and Cul-De-Sac (1966) the Polish director created a world of absurdities and delusions, unlike anything else being produced in Europe at the time.  In these films, Polanski made situations of chaos seem organized; as if paranoia, betrayal and humiliation were all part of something rational and ultimately curable—only by allowing the inevitable to actually unfold, but, only with a strange sense of understanding and restraint for the events happening before the characters very eyes.
Polanski's world of chaos offered a perfect contrast to the mayhem found in Godard's films from the same period—the fear is boiling under the surface, not on the surface.  Polanski was never afraid to criticize French New Wave directors for being "unorganized," flaunting his classier, yet equally unpredictable approach to cinema.  His later work reflected an increasingly American brand of filmmaking, which he balanced together well in his 1974 masterpiece, Chinatown.  Like, Martin Scorsese and Ridley Scott, his later films have slipped into the realm of conventional and predictable (The Pianist, The Ghost Writer), after too many years as a part of the Hollywood establishment.
Nonetheless, Polanski's early work remains among the best in all of cinema.  Knife in the Water plays out like a subtle symphony of discomfort—working off minimalist dialogue and a stunningly composed atmosphere, filled with water and foreboding skies.  The Polish lake district plays home to a world in which, outside of the three main characters in the film, no one else is anywhere in sight. How does Polanski manage to make us feel cramped inside a boat, while sailing off into a seemingly limitless space?
The greatest of all Polanski performances is delivered by Catherine Deneuve as the schizophrenic, androphobic Carole in Repulsion.  Carole's eerie motionless gradually evolves into a psychotic and disoriented state; in talking cinema, silence has rarely been as disquieting as in Repulsion.
Finally, we have Cul-de-sac; Polanski once said "what I like is a realistic situation, where things don't quite fit in."  In ­Cul-de-sac, the first thing we see is a car mysteriously being pushed through a long open road, before water eventually begins to envelop it.  From there on, we have a hostage situation, a mad man, role-playing, shame, laughter, duplicity, a seven minute take of two men talking and God only knows what else; all within the quiet confines of a distant tidal island and a gothic castle.  No, this isn't a horror film.
Cat and mouse has never been as enticing as in Polanski—nothing is idealized—all his characters ultimately reveal their flaws—no one is let off the hook, and it is rare to find a character in his strongest work that draws our sympathy.  In the end, we're all a little bit stupid and a little bit silly.
–SE, August 4, 2012
Honorables: Zelig (Woody Allen, 1983)


In his ceaseless anxiety, Woody Allen will forever declare that he has "never made a (truly) great film"—a masterpiece.  I understand why he says it, but I can't agree with him.
How is masterpiece defined?  Does a film have to be ambitious, sweeping and grandiose?  Like Polanski and Bergman, in their early work, Woody Allen made masterpieces, because he never set out with the direct intention of doing so.  The classic Allen film was never founded in large ambitions; made mostly on modest budgets and minimal casts—most films revolved around two, three, four, five or six major characters—with stories, like Fellini, ultimately centered on compassion toward other living beings.  Of course, the protagonist, often played by Allen himself, must be the most enlightened character—the one with which the audience is more than likely to sympathize with—yet, in Allen's best films, Annie Hall, Manhattan, Zelig and Hanna and Her Sisters, it never feels like the humanity has been cheapened.
If anything, these films serve more as parables, than as manipulations.  Woody Allen realized early on that he couldn't be Ingmar Bergman, he had to be Woody Allen—crafting stories that combined Bergman-esque philosophical questions together with his own, singular, brand of comedy.   Allen's period from the mid-70s into the early 90s remains the work of an auteur.  Charlie Chaplin and Jacques Tati are the only other auteurs who have utilized comedy as directly and effectively in their work.
Manhattan is certainly one of the greatest American films—Gordon Willis' cinematography throughout the film (especially in the opening montage, accompanied by "Rhapsody in Blue") ranks among the best B&W I've seen.  Hanna and Her Sisters may be his most complete film, regarding how silly we really are to think that we know our own lives so well—personifying Allen's mantra "if you want to make God laugh, tell him your plans."
Zelig is an easy choice for this list.  It is the greatest comedy ever made; representing the height of Allen's creative power.  I remember last year when people were talking up Midnight in Paris as an inspired and original screenplay—I laughed, when compared against Zelig.   Conceptually, on the whole, I have a hard time thinking of a more original idea for a comedy, well…ever.  It borders on the miraculous, when you realize how Allen seamlessly reflected an entire era through a single character in under 80 minutes.  Leonard Zelig is everything that Woody Allen aspires to be; adaptive to all people, perfect in empathy.
–SE, August 2, 2012.
Honorables: Baraka (Ron Fricke, 1992)


Baraka is the first film that anyone should ever watch.
In cinema, if there was a starting point, a square one, Baraka would absolutely be the prologue to movies and film that every single person should have the chance to experience.  It is kind of like reading Genesis.
Baraka may not be the greatest film ever made, but it seems totally fair to call it the standard for the visual art form of motion pictures.  Not because of the entire film being shot on 70mm, or being the world's only 8k scan (the 2008 release is enough of a reason to invest reason in a Blu-Ray player) or because nearly every shot in the film is a masterpiece in its own right; in just over 90 minutes running time, Ron Fricke and his crew created the most comprehensive picture of the world, ever seen on film.
Like Godfrey Reggio's Koyaanisqatsi, and many of Terrence Malick's films, Baraka observes the destruction of beauty and freedom that occurs almost daily, as a result of a world moving far too fast for its own good.  It frequently draws from our deepest, most human, emotions—effectively contrasting the industrialized Western world versus tribal and third world life in Africa, Asia and South America.
Of the more than 100 shots from the film that are permanently etched in my memory, there is one particular montage that still remains the most affecting thing I've seen in any film.  "The Host of Seraphim" plays over images of third world laborers and families, before concluding with a sequence of homeless people that ends up in the streets of Sao Paolo—meditating on destitute children who are forced to take care of one another.  Fricke captures a helpless child, sitting alone on the sidewalk, who notices he is being watched—for a moment his soul peers into the lens, silently crying out to an indifferent world of feet slowly passing by.
Amusing, how people in 2012 are inclined to defer to second rate digital motion picture cameras, saying things like "film is too expensive and too inconvenient to shoot on."  Tell that to Ron Fricke.  Guess what, Baraka was made for around 4 million dollars and that includes hours upon hours of 65mm film stock, together with thousands of miles in plane tickets across the globe—no unnecessary costs on actors, no CGI, no special effects, no 300 million dollar budget—just documenting the world as it is, as it appears to the naked eye.
–SE, July 31, 2012.
Honorables: Solaris (Andrei Tarkovsky, 1972)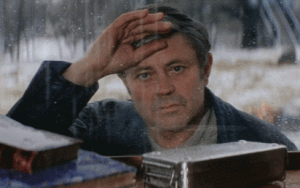 Andrei Tarkovsky died in 1986 just months after the release of his seventh and final feature, The Sacrifice.  He saw the world as a place of great intrigue, yet even greater imperfection—humanity defined by weakness, by dirt on the surface—a place where "both mediocrity and genius (were) equally useless" in the constant day to day toils of Soviet Russia.
Tarkovsky's death of cancer, at the young age of 54, was later attributed to a hazardous shooting location (next to a chemical plant which was spilling toxic materials into a local river) on the set of his 1979 film Stalker  Such a film would have never been completed, or accomplished, in the United States.  Thus, the films of Andrei Tarkovsky—how can the Western world truly perceive that in which it did not reside?  Worlds filled with sweaty, tired, bloodied, burnt, scarred and partially clothed people, limping through an earth filled with loose wires, ramshackle doors and running water.  Is man simply living as part of a stained existence, or is it only by his flaws that he is made complete and perfect?  Tarkovsky once said, "there is only one way to think of cinema: poetically."
His first three films, Ivan's Childhood (1962), Andrei Rublev (1966) and Solaris (1972) continue to affect me the most.  Ivan stands alone as arguably the most beautiful piece of Black and White cinematography ever created by a Russian director.  Rublev is everything that other, so called, Hollywood epics cannot and never will be—the ultimate 101 on how a historical piece should be imagined in cinema.
To call Tarkovsky's later films 'challenging' or 'difficult' would be a gross understatement.  Stalker still ranks as probably the most demanding film I have ever viewed, and The Sacrifice has more shots of five minutes or longer than just about any film that has ever been made (115 total shots in 149 minutes is an accomplishment in itself, when done so effectively).
Solaris, Tarkovsky's 'least' favorite of his own work, is a wonderful middle ground.  Still, anything but conventional, it works as a perfect balance between the real and the surreal.  I've never 'felt' that Solaris has a narrative discourse that weighs it down—just like his other films, what he wants to show on the screen gets shown—there's no rules or limitations to the images.  If anything, the dialogue in Solaris is the best in any of his films; words which give deeper meaning to images of imperfection, further reflecting Soviet communism.
The vibe of paranoia that Tarkovsky achieved over the final hour of Solaris, ranks among the greatest realizations of atmosphere by any director in any film.  People commonly refer to Solaris as a response to Kubrick's 2001, some even going so far as to call Tarkovsky the "anti-Kubrick"—such claims are silly.  Even if Tarkovsky was opposed to 2001—both directors sought to expose a widening gap between humans and the space in which they inhabited—worlds where man had consciously and subconsciously allowed himself to become distant, from the beauty and simplicity of a free world, resulting in unsolvable puzzles of chaos.
–SE,  July 30, 2012.